"Teachers are heroes".
These are the words of Jenna Thomas, a 23-year-old foundation phase education student at Nelson Mandela University.
Held annually on 5 October since 1994, World Teachers' Day commemorates the anniversary of the adoption of the 1966 UNESCO Recommendation concerning the status of teachers. The theme of World Teachers' Day 2021 is "Teachers: Leading in crisis, re-imagining the future". The United Nations Educational, Scientific and Cultural Organization (UNESCO) presented this theme for teacher's day in respect of their determined and diligent efforts in the crucial stages of the COVID-19 pandemic.
Jenna says teachers can make or break how learners perceive so much of their ability, and who they are: "It is so important for a teacher to praise and deliver constructive criticism to their learners. Reassurance and acknowledgement is all a learner really needs in order to feel motivated and loved."
"This was confirmed during my school-based learning experience as a student teacher at Dias Farm Primary School earlier this year. The learners and school don't have much, but the teacher's ability to motivate and push their learners to always do their best is so inspiring. They always remind the learners that the only way for them to grow out of their circumstances and to make life better for themselves, their parents, and their families is through education."
Jenna says her high school English teacher (Grades 9-12) made the biggest difference in her life:
"I used to be very afraid of expressing myself. I always thought my ways of writing essays were too simple and not "academic" enough. When I submitted essays, they were always descriptive but to the point. My reader needs to feel my story with me. When I was in Grade 9, I wrote a piece and felt uncomfortable about handing it in. In my opinion, I really could have done better. We got our marks back a week later. The teacher explained that many of the essays were weak, and she said that so many of us have the potential to do better. Of course, I knew I was leading the pack of learners she was referring to."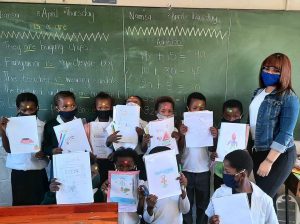 She went on to say that she would read out a beautifully constructed essay that she enjoyed marking and scored the highest out of our class of 32 learners:
"I started recognizing my writing as she was reading this piece to the class, and I remember how relieved and overwhelmed I felt. Ever since that day my attitude towards English as a language, and towards writing in general, shifted completely. That day did so much to my confidence and to my ability to write. I am sure my English teacher doesn't even know how much that day boosted me. I wasn't scared to write anymore. I looked forward to receiving essay marks back after every writing submission."
Mothers of school-going children share Jenna's description of hero-teachers. Celestine Blouw says in her son's Grade 9 year, he had so many challenges, including a prolonged rugby injury: "He was struggling to cope at school to the point where he did not enjoy going to school any longer. His marks dropped, and he became a person we did not know. We then decided to look into a home-schooling option and were then recommended to Wings Discovery Centre, a little school which specialises in remedial education for children with Attention Deficit Hyperactivity Disorder (ADHD)."
"He started at Wings not soon thereafter and along with Tracey Botha and her amazing team of teachers we saw a transformation in him. He is in matric this year and we are very grateful for the support and assistance which Mrs Botha and her teams have given us at this time."
Journalist Candice Bezuidenhout said without her former teacher Ernest Heynes, she would not have been interested in languages and journalism as a career path. Teachers do more than inspire learners to perform well academically; culturally they play a huge role as Hope Gabriel attests to.
Hope has been playing the clarinet since she was in Grade 4. In Grade 5, she participated in the Royal Schools of Music exams and got a distinction and because of her excellent results she thought that she was playing at the best level that she could play: "Unfortunately, when high school started, my music teacher told me that I was/am a lazy music student, and that if I carried on playing as I do, then I wouldn't get anywhere in my life musically and that I wouldn't enjoy music anymore."
"I was just about to give up on music until my first band rehearsal of 2021. My conductor walked in and spoke about his vision for the band this year and how passionate he is about music as well as being able to conduct a band full of talented musicians. His enthusiasm encouraged me to be promoted and to play the bass clarinet as well, and I am now part of the concert band. My love for music started to blossom once again, the passion from my conductor had such an amazing effect on me. This year I was invited to the Cultural Awards. Thank you to my conductor who lit the fire in me again."
Her mother, Charlene, is the principal of Môrewag Primary School. She said she has always loved the stage, and her name used to be first on the list when it came to Eisteddfod or even reading aloud in church. "However, that is where it stopped. Until one day, when my Grade 8 teacher, the late Mr McDonald, decided that I was the ideal candidate to participate in a "Rapportryer" Debate Competition."
Mr McDonald said, "Charlene, just open your mouth and talk, encourage and motivate because you don't have to stand back for anyone." From that year onwards, I've done motivational talks at different occasions for different types of people from all walks of life.
"I will encourage and motivate because I will not stand back for anyone. All thanks to Mr McDonald."
Gqeberha singer and songwriter Mariloe Booysen said teachers knowingly or unknowingly carry the responsibility of investing into lives of the future of our country, the world we live in: "And I truly thank each and every single teacher that ploughs into these minds that later go on and do great things."
According to teachers' union employee Venita van Wyk, teachers just do their job, and sometimes they don't even know that they inspire: "They are the heroes that sometimes don't get the necessary accolades. I had many teachers at high school, and although it appeared that I was only a traveller passing through, I was so important to them that after all these years they still remember me."
With the improving of teachers' health as its aim, KaziHealth is a toolkit designed to do just that. It includes a health risk assessment and lifestyle coaching sessions in order to improve cardiovascular health. KaziHealth rolled out to over 150 teachers in April 2019.
Learn more about World Teachers Day
Read the World Teachers' Day 2021 fact sheet
---
By Roslyn Klaasen and team.